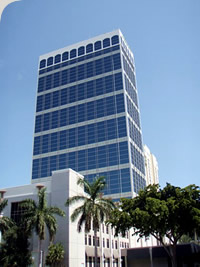 Law Office of Jay Cohen, P.A.
. . . representing individuals and families that suffer a significant loss due to the negligence of others.
Let us help you learn about your legal rights and options. We are experienced trial attorneys licensed to practice in all state and federal courts in Florida. Please review our Practice Areas to see some of the types of personal injury and complex commercial litigation cases we handle.
Experience On Both Sides of Litigation
In addition to our work on behalf of plaintiffs, we have also represented Universal Health Services, Inc. (UHS) for several years in all Florida cases involving their acute care hospitals and behavioral facilities, including Wellington Regional Medical Center, Manatee Memorial Hospital, Lakewood Ranch Medical Center, and Central Florida Behavioral Hospital. UHS is one of the nation's largest and most respected healthcare companies. That UHS chooses to be represented by a law firm that regularly sues healthcare providers is recognition of the value of this firm and its experience in the complexity of medical negligence cases, employment issues, staff disputes, contract actions, and disciplinary matters.
We also represent large national companies in many different types of litigation involving their contracts and business relationships.
Representing both plaintiffs and defendants in various healthcare disputes and complex commercial litigation provides us with more insight and expands our knowledge base to best serve our clients.
Thank you for visiting JayCohenLaw.com. Call us today to schedule a free consultation.