Request a Consult
Florida Plaintiff's Personal Injury
and Complex Commercial Litigation Attorneys
 Law Office of Jay Cohen, P.A.
. . . representing individuals and families who suffer a significant loss due to the negligence of others.
Let us help you learn about your legal rights and options. We are experienced trial attorneys licensed to practice in all state and federal courts in Florida. Please review our Practice Areas to see some of the types of personal injury and complex commercial litigation cases we handle.
Thank you for visiting JayCohenLaw.com. Call us today to schedule a free consultation.

 Experience On Both Sides of Litigation
In addition to our work in Florida plaintiffs personal injury, we have also represented Universal Health Services, Inc. (UHS) for several years in all Florida cases involving their acute care hospitals and behavioral facilities, including Wellington Regional Medical Center, Manatee Memorial Hospital, Lakewood Ranch Medical Center, and Central Florida Behavioral Hospital. UHS is one of the nation's largest and most respected healthcare companies . . .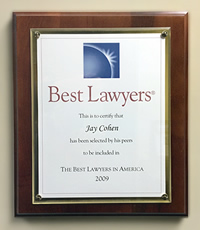 Jay Cohen and Rudy Ayala obtained a verdict of $19.25 million for their client, a 43-year-old Hollywood woman who suffered damages due to negligent delay in treatment. A Broward jury determined that three of her doctors failed to timely identify and treat her spinal epidural abscess, causing permanent nerve damage which left the Plaintiff paralyzed from…read details>>

Rudy Ayala was recently featured in the Hispanic National Bar Association's June 9, 2014 edition of E-Noticias for his participation as second chair in the firm's recent medical malpractice trial which…read details>>

On June 27, 2014, The Florida Bar honored Jay Cohen with the President's Award of Merit. The award was presented by Eugene Pettis, President of the Florida Bar, for Jay's dedicated service as a member of The Florida Bar Board of Governors and for his "outstanding leadership" of the Vision 2016 Commission and Board of Governors Legislation Committee.

On February 10, 2015, the Urban League of Broward County welcomed a new chairman along with six new board members to help lead the organization as it celebrates 40 years of service and hosts the National Urban League Annual Conference on July 31-August 1, 2015 in Fort Lauderdale. Jay Cohen is one of the new area executives joining the Board for 2015.

Jay Cohen, as lead trial counsel, recently obtained a $14 million settlement in a class action suit against Broward General Medical Center on behalf of cardiac stress lab patients exposed to contaminated saline over a five-year period…read details >>

Jay Cohen has once again been named a Most Effective Lawyers finalist in the Medical Malpractice category by the Daily Business Review*. This past summer, Jay Cohen, as lead trial counsel, obtained a $14 million settlement read details >>

Jeff Blostein has been selected by his peers as one of "Florida's Legal Elite" for 2014. Florida Legal Elite recognizes the top attorneys in the state as chosen by their peers, and is currently celebrating its 10th anniversary.

Jay Cohen was recently appointed Chair of the 4th DCA Judicial Nominating Screening Committees (14th, 15th and 17th Judicial Circuits). He also serves as a Member of the Supreme Court Screening Committee.

Jay Cohen appointed and currently serving as a member of The Florida Bar Board of Governors.