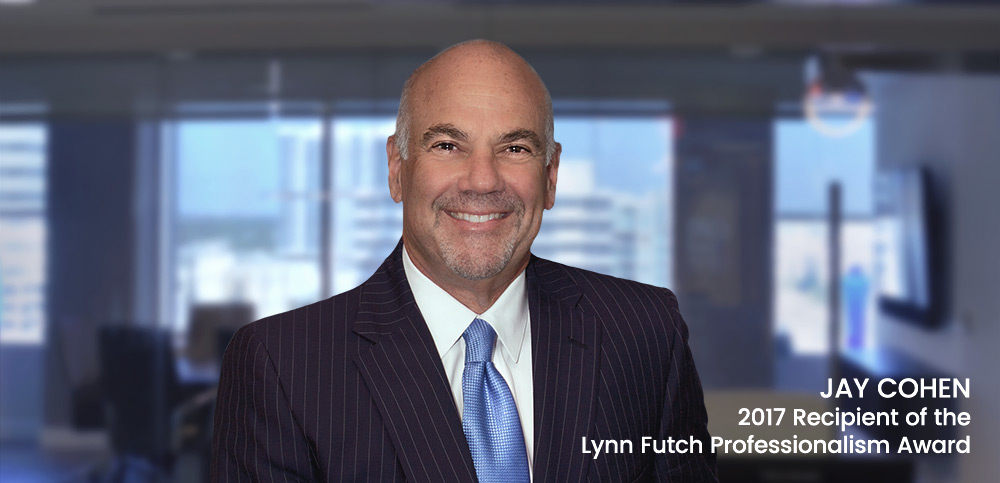 Jay Cohen Receives 2017 Lynn Futch Professionalism Award
Last week, the Broward County Bar Association presented the Lynn Futch Professionalism Award to Jay Cohen. This prestigious recognition is presented to attorneys whose peers believe exhibit a high degree of professionalism. Nominees must demonstrate respect for the law, and preservation of decorum and integrity of the legal system. Additionally, they must conduct themselves in a manner which has enhanced the image of the legal profession.
Integrity, Courtesy…
Attorneys who receive this recognition are considered role models for the legal community, exhibiting such characteristics as:
Integrity
Timeliness and promptness
Mentoring of others
Zealous advocacy while maintaining civility
Decorum and demeanor
Credibility
Courtesy to counsel, the court, and the parties
Preparedness
Jay Cohen thanks the Broward County Bar Association and his peers for this honor and reaffirms his commitment to both the legal profession and those in need of legal advice.
In addition to his many years prosecuting civil cases, and representing both plaintiffs and defendants in negligence matters, Jay serves as a member of The Florida Bar Board of Governors. Jay has taught at Nova Law School and is an adjunct professor of law at St. Thomas University.